Think You Know How to Make Money with Teaching? Find Now
Whether You are a highly experienced teacher or just a beginner in teaching, sharing knowledge and make money has become harder these days. So, why not profit from technological advancements? eLearning is the opportunity for professors, not only for students to move forward!
I am sure you have already heard about different tools to integrate for:
1) Saving your time
2) Making more money
3) Getting rid of the technical part of the work
4) Working more effectively on your individual branding
5) Sharing your knowledge & skills much more widely
So, what are the main widespread tools that trainers and educators utilize to teach their learners online? And what makes those more or less productive?
But why do you need your own website to teach online?
Let's list a few e-learning platforms & see those main benefits & drawbacks.
Google Hangouts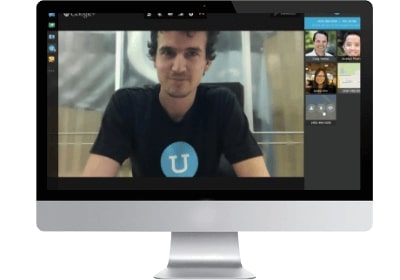 One of the highly widespread tools that instructors use nowadays is organizing online lessons by connecting a classroom with another one.
Google Hangouts benefits are:
1. It's a free tool
2. Has an opportunity to create video lessons
So, this is mainly for those who don't look for a tool with advanced features, just a space to run online lectures.
Edmodo
This one is a social media platform just for trainers, schoolchildren & pupils, and their parents. If you wish to assign homework online and track each student's performance, Edmodo is a great solution for you.
So, what are its benefits?
1. Although Edmodo isn't a free platform, it has a free option as well
2. Has a performance assessing feature
3. Edmodo is the most interactive one among all the listed
JotForm
JotForm is a great survey and form tool for teachers. You can collect feedback from your students, have parent communication, create lesson plans and great looking PDFs using the PDF Editor.

Kahoot!
This tool is designed for creating quizzes & questionnaires.
Who is Kahoot! for?
1. For trainers who want to evaluate regularly their trainees' progress
2. For those who need an easily usable tool to complete the quiz wherever they want

ezTalks Meetings
This is a high-quality video conferencing tool, which is a perfect choice for those whose primary purpose is carrying out online lectures & don't need any other additional resources.
ezTalks Meetings has a Starter plan that is free to use.
Each of these platforms & others not listed here is for answers to a specific demand, but no platform provides a full package of all the needs that education providers have. So, you have to be present simultaneously in a few educational websites for getting the desired results from eLearning.
And this is the primary disadvantage of all these platforms, especially for private tutors and coaches who aim to earn with the help of eLearning and do their work in a highly organized way.
Of course, you also have an opportunity to put your lessons on online education sites, but in this case, you will have to pay a commission for each of the sold lessons. For this reason, many private tutors create their educational platform for:
1. Putting their lessons in one space,
2. Engaging more students
3 And not sharing the earned money with a 3rd party
Here is a conclusion: ordering a unique Learning Management System (LMS) for creating online training is the ultimate solution to run online lessons & not be dependent on anything!
So, a question to be asked: do you want to teach online and profit from all the significant advantages mentioned above & pay only once?
Yes? Not sure?
Just look through these privileges you'll get to choose this option.
• There won't be a direct comparison with your competitors (when you publish your online course on existing eLearning platforms, prospects start comparing similar courses).
• You don't pay a commission fee to a 3rd party.
• The interface & features of the LMS is fully adapted to your course.
• Your specific long-term goals & marketing strategies are taken into consideration when building the eLearning platform.
And now what's your choice?
Let's do everything & anything professionally to get the highest outcomes. There are different types of webinar software you may rely on.
Article by: Vera Mirzoyan
Published on: February 28, 2018
Last updated on: September 02, 2021