6 Best Online Course Builders
We all live in a turbulent world that is full of uncertainties. This fact affects all areas of our life, and especially our choice of career path. As eLearning has become an integral part of modern education, choosing one of the best course builders is crucial.

Today, there are several platforms available for creating online courses. Each tool or solution has its own set of pros and cons to consider. Choosing the most appropriate platform to use requires consideration of the features that are most relevant to you. And we'll guide you through.
Why should You Invest in an eLearning Business in 2021?
Continuously pursuing new knowledge is no more a luxury, but a necessity: the more skills you have, the better the prospects for career growth or business success.
A report from Statista states that in 2020 alone, the online education market has reached $46 billion. Forbes estimates that the worldwide e-learning sector will be worth $325 billion by 2025.
Best Online Course Builders to Invest in
#1 Thinkific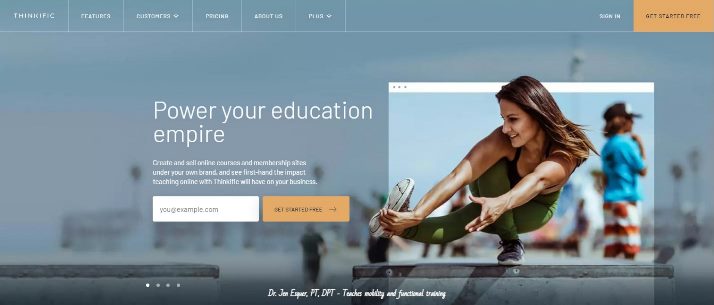 What is Thinkific?
Thinkific is a popular platform with over 50,000 course creators that offers a variety of tools for creating, managing, and selling online courses. It allows users to build websites that may contain an endless number of instructional videos, sell their material, and then provide limitless traffic to e-learners.
It is an all-in-one platform, which means you can build a website, host classes, and sell them.
The platform has a lot of capabilities, especially when it comes to functionality for creating online courses. This platform can not only assist you in building a website from the ground up, but it can also assist you in customizing and creating lessons with numerous criteria in a straightforward manner.
Briefly, here are the pros and cons of Thinkific.
➕ Quizzes
➕ Website builder
➕ Drag and drop course editor
➕ Customizable branding
➕ Marketing tools
➕ Integrations
➕ Payment options
➕ Community area
➕ Certificates of completion
➕ No transaction fees

➖ No chat support
➖ No mobile app
➖ Poor quality checkout
Thinkific pricing
Thinkific has a free plan option and three paid ones. The price point of the Basic plan starts at $39/mo, which makes $468/yr.
However, their popular Pro plan comes with a one-month free trial to get you started.
In fact, Thinkific is an excellent option if you're looking for an LMS for schools the creation of which does require little or no technical programming knowledge.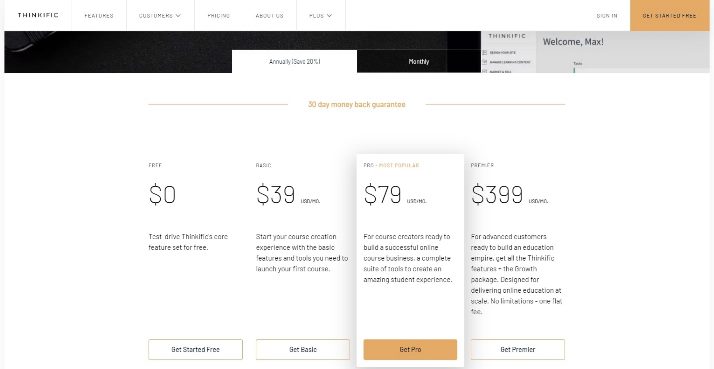 Thinkific stands out from other online platforms that allow users to build online courses since the procedure is simple and the user experience is straightforward when compared to other systems.

Furthermore, Thinkific allows users to host their website on their subdomain if they are just getting started and do not have a domain or web host.

Almost the same and even more features are offered on the next platform in our list.
#2 Uteach
Uteach is another platform that provides an opportunity to create an e-learning website for teachers. Here they will be able to publish courses in any area of their experience. The greatest thing is that there is no need to be specialized in a specific niche or industry. Everything is teachable. The tool was made in response to the high demand for online learning that has developed in recent years, especially, after the lockdown because of the COVID 19 pandemic.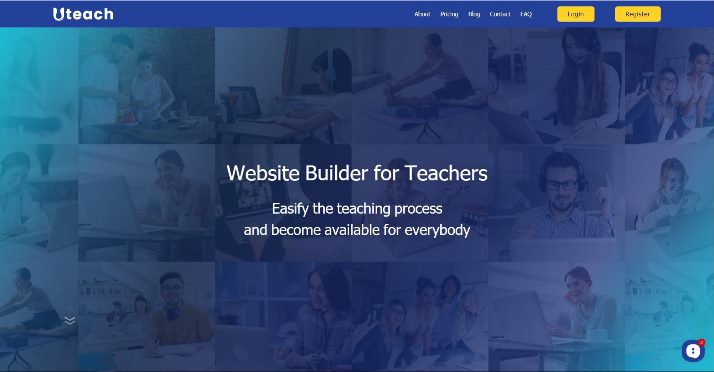 Key features and some pros and cons of the Uteach platform:
➕ Solid website builder
➕ Online Courses
➕ Timetable
➕ Quizzes with automated checking
➕ Certificates of completion
➕ Easy and simple set up process
➕ SEO friendliness
➕ Strong teacher-student connection
➕ Advanced tech support
➖ No free subscription plan
Although Uteach doesn't offer a Free subscription plan, you can subscribe to each of the mentioned options free for 35 days without even attaching your bank card or any other payment method.
Uteach pricing
Uteach offers 3 types of subscription plans. The Basic plan starts with $24/mo, the Pro (which is the most popular plan is $59/mo, and the Business one is $199/mo. They also provide a customized solution where you can create your plan according to your specific request.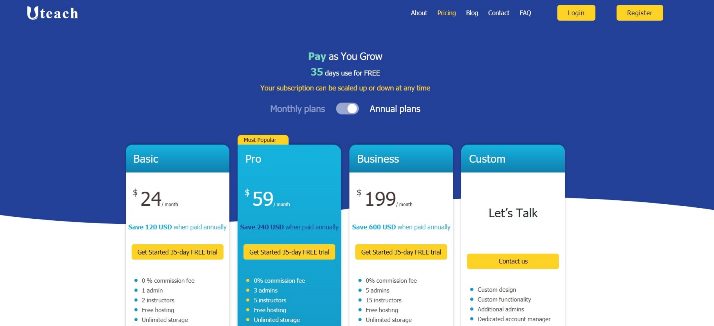 #3 Podia
The next platform I am going to introduce you to is Podia. This is an online content management platform that is a complete solution and allows you to go from course creation to sales and delivery.
You can create an excellent digital learning course containing images, audio, video, interactive elements, and more in a few minutes. And it is a fully automated solution.
Pros and cons of Podia:
➕ Friendly and simple platform
➕ Clean design
➕ Unlimited students and courses
➕ Inbuilt chat widgets
➕ Has a website builder
➕ Free migrations
➕ Quality customer support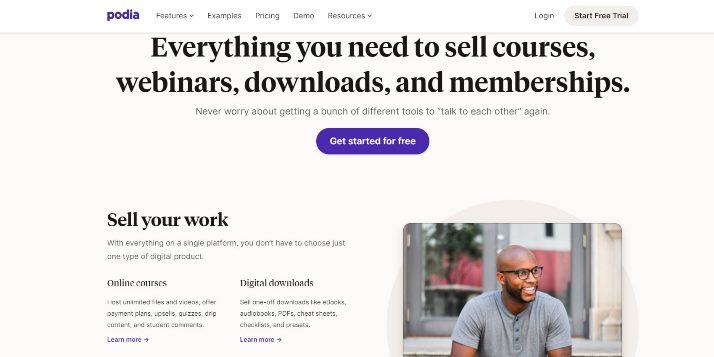 ➖ It's too simplistic
➖ Limited possibilities for creating a full website suite (with the main pages and blog, for instance)
➖ Does not have a mobile app
➖ No community area
Pricing of Podia:
The Basic Podia plan, called Mover, starts at $39/mo, and $390/yr.
#4 Kajabi
What is Kajabi?
Kajabi is another platform that offers a simplified system that has everything you need to sell your product. It claims to be the best platform for creating online courses.
Entrepreneurs use the platform to make the process of developing and operating a course easier. It has several built-in tools that members may use to create online classes, promote their businesses, and create their own websites.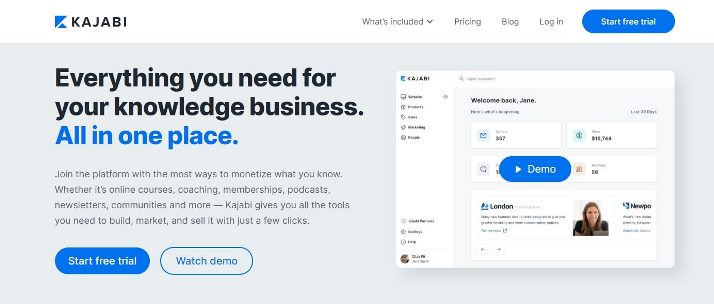 For a better user experience and future customers, Kajabi allows users to find a spot to put their sales and marketing funnels in one place.

Pros and cons of Kajabi:
➕ All-in-one tool
➕ Solid website builder
➕ Beautifully designed themes
➕ Quizzes & Surveys
➕ Intuitive marketing tools
➕ Community feature
➕ 24/7 support chat
➕ iOS and Android apps
➖ No customized student certificates
➖ The inability for users to fully customize their websites
➖ It's a little pricey
How much is Kajabi?
Speaking of prices. The Basic Kajabi subscription starts at $119/mo, whereas its Most Popular plan is $159/mo billed annually.
In comparison to Uteach or Podia, the pricing point of Kajabi is significantly higher.
#5 Teachable
What is Teachable?
Teachable is most likely one of the best online teaching sites if you're looking for a fast and simple course builder.
This platform offers clean website interfaces, intuitive admin modules, great customization tools, marketing capabilities, and analytics.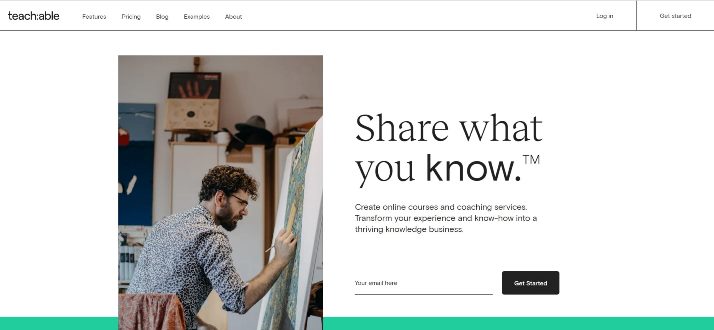 You may build an endless amount of interesting courses with a platform like teachable, regardless of your background. To create your course website, you don't need to learn code or have any technical skills.
Pros and cons of Teachable:
➕ Ease of use and set up
➕ Quizzes
➕ Certificates of completion
➕ iOS app
➕ Solid analytics module
➕ The smooth one-click checkout process
➖ Average website builder
➖ No community area
➖ No Android app
➖ Not so many integrations
Compared to Podia, for example, Teachable offers the option to save your payment information for future transactions to make the checkout process as seamless and straightforward as possible.
How much is Teachable?
Teachable subscription starts at $29/mo for Basic, $99/mo for Pro, and $249/mo for a Business plan. It also offers a free trial that includes all the basic features.
However, one of the drawbacks of Teachable pricing is that it charges $5 per transaction if you choose the Basic plan.
#6 Udemy
By combining 'you' + 'academy' in its name, Udemy positions itself as a global learning platform. If all the above-mentioned online course platforms are website builders for creators, Udemy is just a single portal where different creators publish their online courses without having their own e-learning website. In other words, it is a massive collection of online courses.
Whether you're looking at course options, the number of students, or the languages accessible, Udemy is by far one of the largest online learning platforms in the world.

Udemy appears to be a pretty easy and efficient tool at first sight. This online course builder allows you to provide course content online and through mobile apps for Android and iOS operating systems. You may also write outstanding course evaluations and enhance your reputation over time if you're a part of a large community.
Pros and cons of Udemy:
➕ It's affordable
➕ Massive Course Catalog (2000+ opportunities to learn programming languages like Java or JavaScript)
➕ Lifetime access to classes
➕ Certificate at Completion
➕ Quizzes
➕ Ease of use and set up
➕ iOS mobile app available
➕ Q&A and Support
➕ 30 days money-back guarantee
➕ Well-designed course interface
➖ No offline access to saved video lessons
➖ Сreators have to share some percent of their income
➖ Course quality varies
Udemy pricing
Udemy courses start at a pretty affordable price point: $10 for new customers.
The most costly courses on Udemy are now $199.99, however, you can frequently get promo coupons for up to 90% off online. You may pay in your own currency, which can sometimes lower the price even more.
There are numerous benefits to being a member of Udemy. This portal offers you 97% of your profits if you use the Udemy course link to encourage someone to take the course and pay for it.
Conclusion
To summarize, all of the aforementioned online course builders make it very simple to publish your course, give student instruction and feedback, and make sales. They also provide different creative tools, as well as design and marketing elements, to help you build the course you want. Nonetheless, each platform has its own set of benefits and drawbacks.
But, despite the number of great platforms to choose from, it is the quality of your course content that determines your success and not the tool you use.
Article by: Vera Mirzoyan
Published on: September 28, 2021
Last updated on: September 28, 2021