9 Best Online Teaching Sites That Will Inspire You
The idea of teaching and learning anytime anywhere sounds extraordinary. The Internet reaches worldwide. Accordingly, the current digital landscape, as well as the innovative devices, bring education to a new digital level.
Today it is possible and easier than ever to share knowledge with people who need it. And the most fantastic thing is that there is no time or distance limitations. Digitalization makes everything accessible always and everywhere.
Another advantage - you do not have to be a specific school subject teacher or a university professor. Whatever profession you have, you may share your skills. No matter you are a fitness trainer, yoga coach, marketing consultant, or make-up artist, you may rely on different lesson plan websites and make the process come true in the best way possible.
Continually growing technology makes education more effective and available to everyone. As a result, a question arises:
Whether computers will replace teachers or not?
The answer is NO. Teachers are an essential factor in education. Technological devices offer a range of features and benefits. In any case, they are nothing without the human. It is the teacher - the creator who provides knowledge using these devices and features.
Do you want to teach classes online? You may become such a creator and remove the class gap between traditional vs online classes. Here there are a lot of platforms you may rely on. Choose the best teacher websites for lesson plans and go on the way to your success.

The number of platforms for online education is increasingly growing. And it's the choice of many online teachers and students. E-teaching is currently an ideal solution. The reason is - it can be done anywhere and anytime. Currently, many online teaching platforms and even practice applications are available in the e-learning market. These platforms aim at facilitating the creators' responsibilities.
Creating apps is beneficial for such purposes because it's fast, accessible, and attractive. Finding the best online teaching platform, however, seems to be a real challenge.
To focus on the most essential, I have analyzed the market and create a list for you to make decisions easier. Go on reading and find the 8 best online teaching sites below which will surely inspire you.
1. Tutor
One of the oldest and most trustworthy teaching websites is tutor.com. This site offers one-to-one learning solutions both for students and teachers. Their service includes tutoring, peer coaching, professional development, training, career help, etc.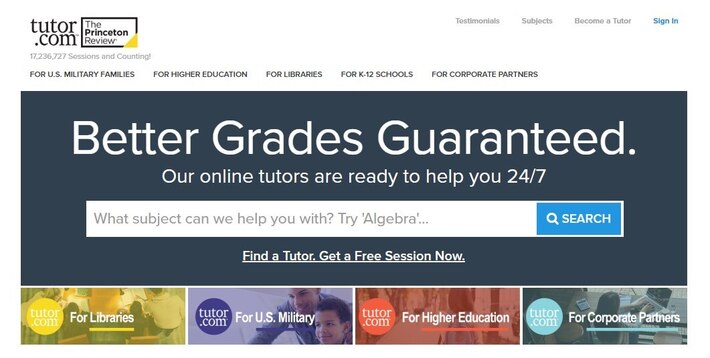 Tutor.com is a popular platform. Teachers go there for online tutoring. At the same time, it is the favorite platform for the students. As tutor.com mentions, students love them, cause they put students in the driver's seat.
2. Uteach
Time changes and better solutions arrive in every aspect of our lives, especially in the e-learning industry which is constantly growing.
Uteach is a new and different approach to the online teaching system. This isn't just a platform where you may upload your online courses. Uteach provides a chance to create your own portal - a website that becomes your personal brand with your desired domain name and design patterns. Once you registered to the platform, you can introduce your video courses, quality knowledge, skills, and experience.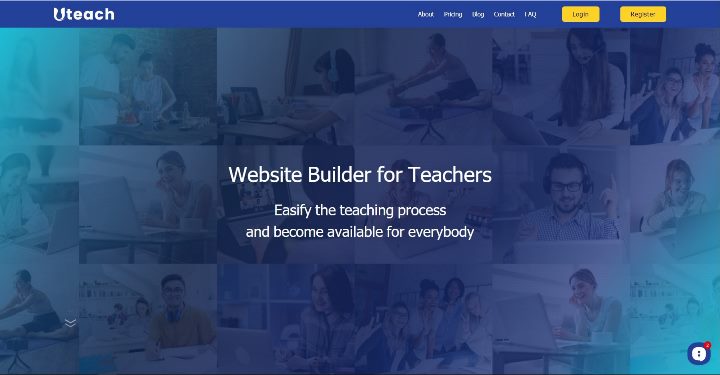 This platform is developed taking into consideration the demands as well as preferences in the e-learning market. Getting familiar with the creators' challenges, Uteach team developed a product that meets the market demands and helps to improve the quality of online learning.
Creating your online teaching website with a custom domain, you get access to a lot of advanced features that become great solutions for you. And there is no need to worry about risks. Here you make use of 35 days of a free trial and there is no need even to attach a card for this period.
Here you may publish and sell online video course material, add extra files (different formats), attach quizzes, and award certificates. Isn't this great to have as an online creator?
Uteach also provides a custom blog. Here you may come up with interesting articles and infographics in your specific niche. The most fantastic thing related to this platform is that along with the increasing growth of digitalization it always develops all the functionality of your portal, providing results you'll be satisfied with.
And yet, if you have any questions related to the portal or its services, you may just contact the company. The Uteach support team is very responsive to customer messages and always ready to meet your demands.
3. Preply
Preply is a language tutoring platform that connects tutors and students from around the globe. Tutors on Preply teach more than 800,000 students in 180 different countries. And they also offer numerous online teaching jobs with over 100 subjects available on the platform--from languages to academic subjects and even a few sessions on hobbies and art. On average, tutors who are already established on the platform can earn from $15 - $25 per hour or at least $550 a week and that will still depend on the hourly rate you have set, the number of sessions you hold every week, and the number of students who continue to learn with you after the trial lesson.
To apply, you only need to submit the following:
Basic information about yourself
A headshot photo of yourself
An accurate description of your skills as a tutor
A recorded short video introduction (2 mins)
Your preferred schedule
4. Chegg Tutors
"Chegg Tutors" sounds great when it comes to paying per hour. This online teaching site is intended to help students in high school and college. The site offers online textbooks, homework help, online tutoring, scholarships, and internship matching.

The platform is suitable for teachers to make a reputation. When a teacher completes any course or training, the students give feedback. Reviews and testimonials help to get more opportunities.
5. Udemy
There was a time when hearing the expression "online learning" people thought about Udemy.
This is an online learning platform. It features 80,000+ courses taught by online teachers. There are more than 17 million students and 27000+ tutors on this platform. Udemy has an advantage. Here you don't teach like other online teaching platforms. You choose a topic and create online course content. While the income comes whenever the students buy your courses. So, you may teach online and earn money from home.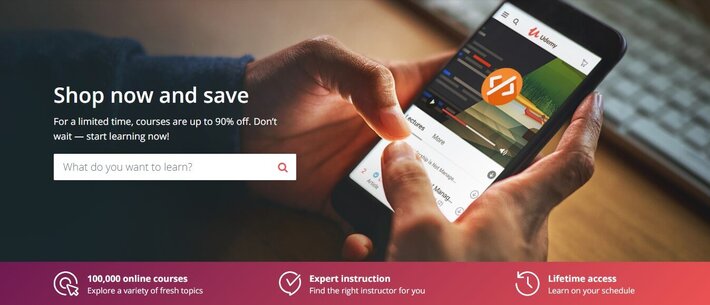 However, take into consideration that this platform charges some fees for each course sale.
6. Tutor Hub
This e-teaching platform is easy to use. Tutor Hub is a secure website, which is useful for students and teachers. It is comfortable for teachers to arrange lessons and use an online tutoring classroom.
Students also like Tutor Hub. They quickly find a teacher online and start training. This platform is right for learners both inside and outside formal education.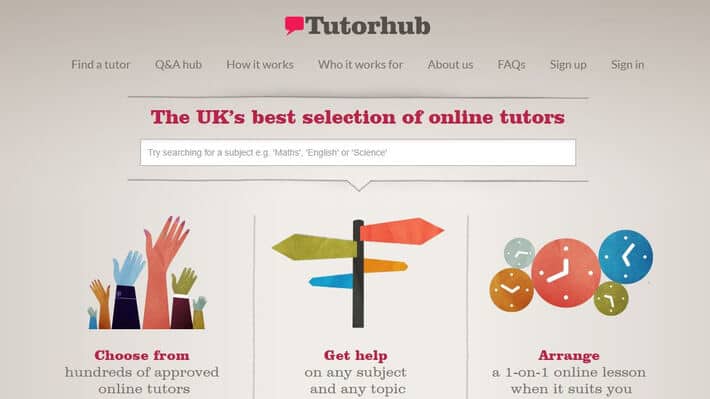 7. Buddy School
Here is an excellent online teacher website. Buddy school is available to everybody and is the perfect place to find your first online teaching job. Education providers just need to register and create their profiles. Then this is a nice place to promote the digital class e-learning marketplace and increase reputation.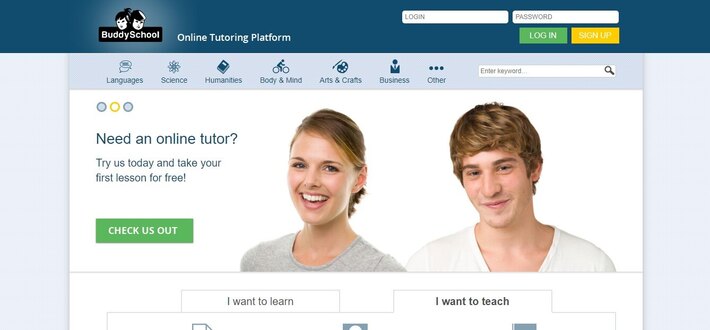 Buddy school is a more convenient platform for new beginners who need to establish a reputation and earn trust. It is one of the suitable teacher websites. Beginner tutors introduce their educational material and get some scores (rated by the students).
As a result, they build a loyal audience and increase the number of students.
8. Happy Tutors
This platform somehow differs from others. This is for teachers, for students, and for parents. So, Happy Tutors may be considered to be one of the teacher websites for kids.
This is a free community that has a mission to promote lifelong learning. They say they have 100,000+ visits a year.

Regardless of the fact that there are a lot of choices available, that they even confuse creators when choosing a good e-learning platform, many creators prefer to focus on their personal platform. If you also like it, then the last point is special for you.
9. Your Own Website
While you are confused about finding an excellent e-teaching platform, here is your own website - your best solution. Personal teacher websites are the best solution for an online coaching specialist. This platform is an accessible website. It meets not only the teachers' but students' needs as well.
Your personal e-teaching website sounds great. As the owner of the platform and an education provider, you choose the features of your site, taking into consideration the needs and preferences of your audience.
You may upload unlimited courses, attach files, organize events, and do anything you find proper. Your website completes all the features that different platforms include. You build an online classroom, bring courses, and why not promote courses of other teachers. You create a blog and a forum.
If you were attentive reading above, you will remember that Uteach also offers the same features as a website builder. Here you should choose whether you want to create a custom website or use a website builder.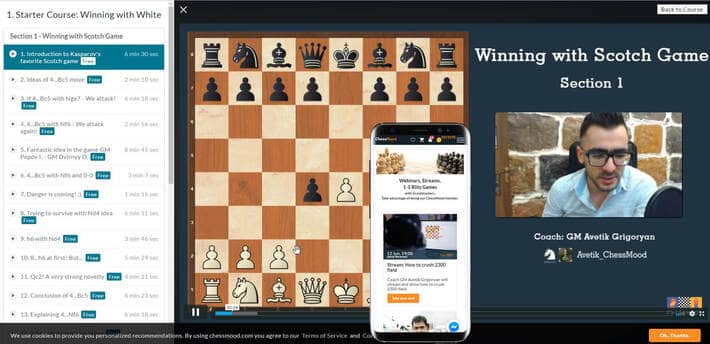 An example of a personal teaching website is ChessMood. It is the most lovely educational platform for chess lovers founded by Grandmasters. As ChessMood mentions, with the educational platform and online store, they do their best to serve their mission. Their mission is to help ChessMood members to level up their skills with smiles and happiness.
There are so many e-teaching sites that will inspire you. Then what is the reason you still hesitate on your own website? Surely it will inspire many people in the near future.
Let's make a discussion on your website in one click
Article by: Vera Mirzoyan
Published on: March 21, 2019
Last updated on: November 22, 2022