9 Reasons Why You Should Go for Custom Software Development
Custom software development is a personalized approach to you, your brand, and your business. It provides an individual way to be original and makes you differ from the competitors, standing out in the pool.

If you are a large business owner or an individual who starts a small personal business, you should have already considered having a website. When considering the decision of having a website, people usually take into account custom vs off-the-shelf solutions of web development. Some people make their final decision on the side of off-the-shelf options. They prefer to pay less and create a website on a ready-made template. But I'm sure this isn't the best of the possible for your business.
Choose Custom Software Development
If you present a business, you want to do it in a proper way to provide a great user experience and gain the users' trust. This will be easy to do with the help of custom software development solutions. Yet, you may have the question, "why you should go for it?". If you really have this question, then go on reading as I'm going to answer your question.
Reason #1 Meet Specific Needs and Requirements
Every business has unique needs and specific problems. Accordingly, every businessman looks for the best possible solutions to meet these requirements and offer perfect services to the customers. For instance, your business solution may be a travel website. You will need to provide specific functions to make the users complete the overall process in your platform. You don't want to direct them for instance, to booking.com in order to reserve a ticket, as your competitors do.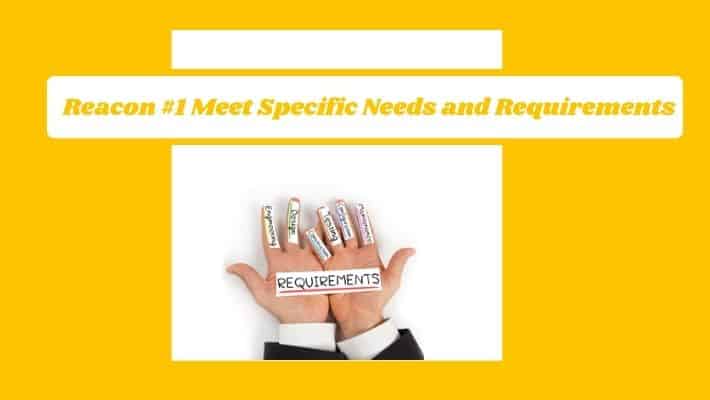 A custom platform will be developed to meet your business requirements. If you work with a custom development company, they will listen to your problem, understand your expectations, and offer specific functional features to help you meet your customers' needs. If required, they will develop a custom booking system to generate into your travel website and help the users book tours or hotels right from the same platform.
If you choose a custom website, the platform is to cover your business. Therefore, if you make the final decision on creating a website on a ready-made template, you just try to fit your problem within limits.
Reason #2 Realize Your Vision, Don't Try to Fit in with Someone Else's
Making use of tools that aren't created for you, may reduce efficiency, productivity, and creativity. A ready-made template cannot be good for any kind of business. If you ask me, such off-the-shelf solutions are created for people and businesses who just want to have a website but don't use it all efficiently to generate leads and increase sales. I'm sure, you aren't one of them.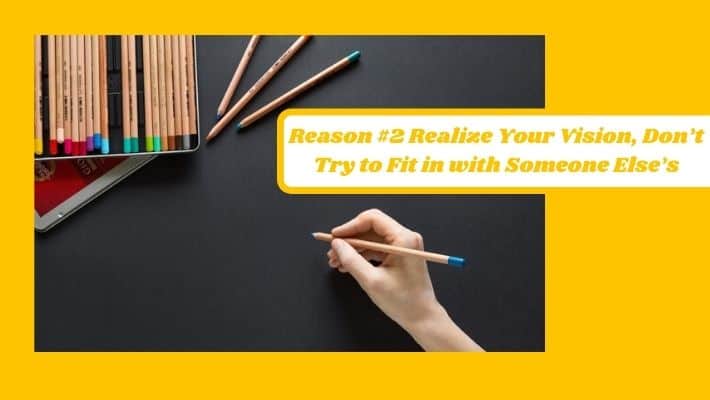 You care about your business and have a vision of it. All you need is to create a digital solution that will make your vision real. A custom solution will become the digital face of your brand, your colors, your logo, your style, and everything from your and your users' point of view. What else may be better than a unique website that makes people think about your brand? And while your competitors change the template design to create at least a little bit different view for customers.
Reason #3 Flexibility and Efficiency
If you have ever experienced working on a website as a part of your business, you know best of all, that during the process you come across some features that seem to be essential to include. This may be during the development stages, as well as when the website is already live. The reality is another decision-maker. As time goes, people change and their preferences change. Accordingly, the solution you offer should also be improved.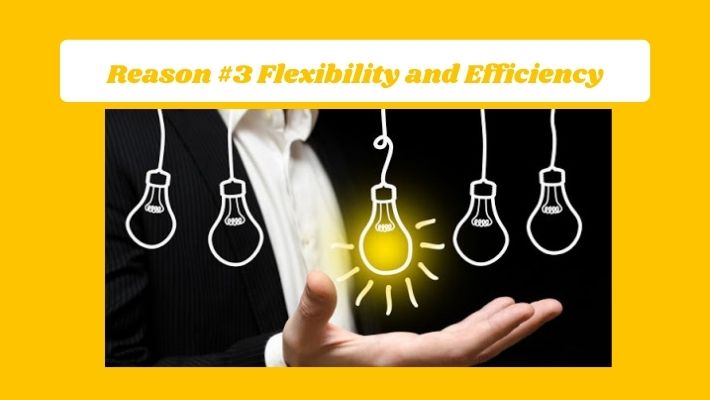 One of the critical advantages of custom software solutions is its flexibility. Any change you want may be easily realized so that your platform always stays up to date with the ongoing trends. Such a high level of flexibility provides efficiency in the working process. The competitive processes are easy to automate so that the system automatically leads the users and there is no need for human interaction.
Reason #4 High Level of Security
Have you ever thought about offering a digital solution that is secure both for you and your users? If you consider security then custom software solutions are your best fit. Let's imagine you have an e-commerce website for your online shop. Your customers make purchases on this website, provide their personal data, including the credit card numbers, and complete the checkout process. Would you like to risk their data and lose your chance to gain loyal customers? I'm sure, this is not what you have dreamed about for your business.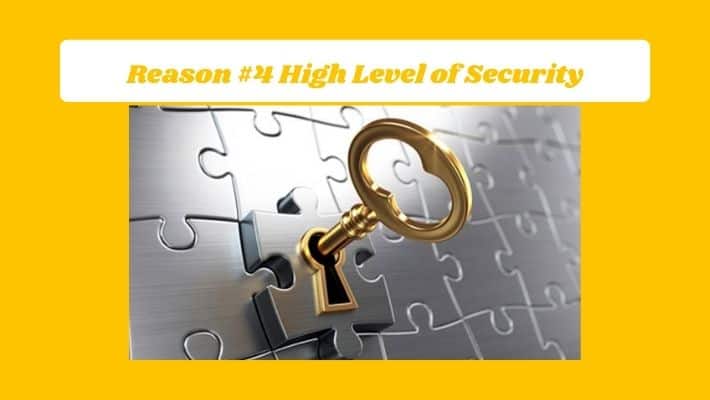 In this regard, custom software solutions provide a high level of security. If I speak in a simple language, I'll tell something like this: "A custom website offers more security as the hackers are not aware of the project built from scratch. So, they will need more time and effort". Off-the-shelf solutions are more likely to be hacked. The reason is obvious: an off-the-shelf solution is used by various companies, while only one business operates a custom solution.
Imagine hackers have two choices. They may either hack an off-the-shelf platform where they may get access to a huge amount of data from various companies, or they may hack a custom platform to get access to one company's data. Which one do you think they will choose? Do you guess?
Reason #5 Support and Maintenence
When you choose custom solution development you get an opportunity to work with a dedicated team. They are always there to provide in-depth tech support and maintenance at any stage of project design and development.
Website development is not an easy and immediate process. You may have issues or questions during the process that need answers. A good support team may immediately understand your business requirements and offer solutions. Besides they may also help you to operate the website from the admin panel.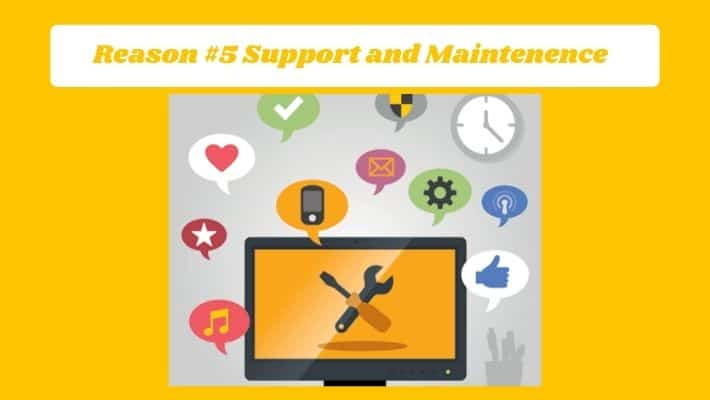 With custom solutions, all the points related to support and maintenance is completed faster than with off-the-shelf solutions. And the most fantastic thing is that the provider may not just decide not to continue the support for any service your business relies on. You get consistent lifetime maintenance for your software solution.
Reason #6 Better Integration with the Existing System
Custom software solutions provide an opportunity to easily integrate different APIs into the existing system. This is especially beneficial for such an organization that makes use of several systems across different departments. Instead, they may rely on a custom platform that covers all the various systems integrated into a single solution.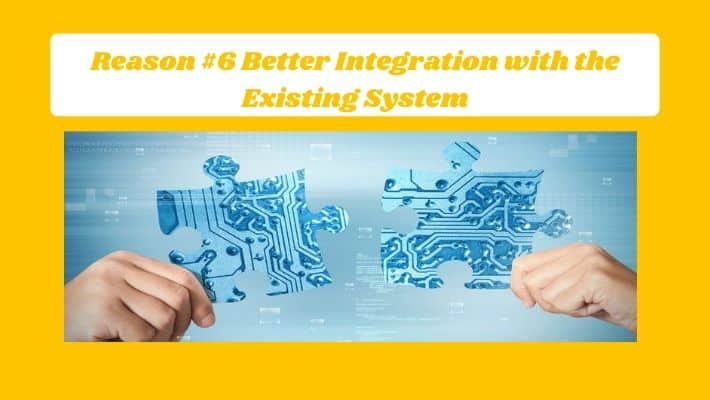 Any kind of custom solution is easy to integrate into an already existing system. Usually, this is implemented to increase the level of productivity and efficiency, providing more functional features for the end-users. Sometimes this is done to make an experience the potential users are familiar with.
Reason #7 Add Extra Features When Needed
Along with the growing business, the needs and requirements also become more and more. To meet those requirements, businesses need extra functionality. Custom solutions make it possible and easier. A good development team may easily get your message and easily create and add extra features needed to offer to your potential customers.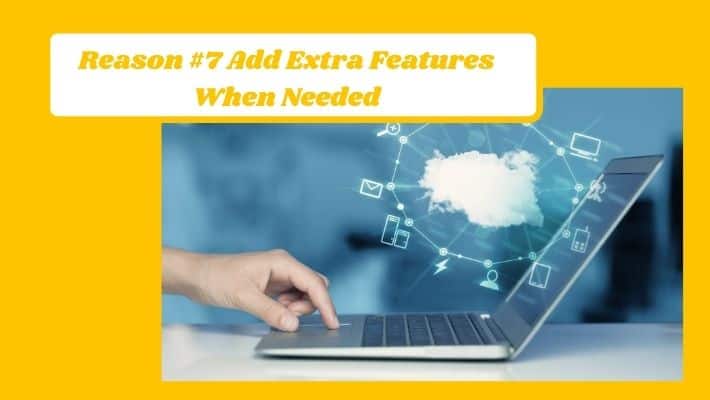 This is a user-oriented approach that helps you satisfy people and provide efficiency. The results are especially practical when you look for long-term goals and experience.
Reason #8 Reduce Costs with Custom Software Development
It is accepted to believe that ready-made solutions are cheaper than custom platforms. This is real in short-time situations. However, if we look at the long-term costs, we may notice something different.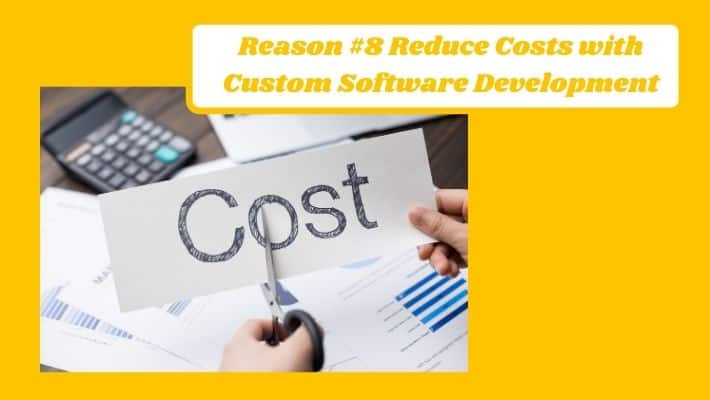 Sometimes the business doesn't need all the functionality offered by a template but has to pay. In the case of custom development, you choose what functionality you need and pay only for it. Besides, there is something more interesting. Off-the-shelf solutions usually require monthly or yearly licensing fees. And there are so many payments in the process that if you make a calculation, it will be even more expensive. So, if you choose a custom solution, you'll pay more at first then the platform will make all this money and even more back.
Reason #9 Get a Competitive Advantage
Imagine that all your competitors have similar platforms created with similar templates. All the difference is in the colors or in several icons they choose from. Do you want to become one of them and integrate into that pool? Of course, you don't. That is why you should choose to have a custom development platform and get a competitive advantage.
Having your personal custom software platform at your control, not only do you have a dominating portal that meets all the possible requirements you have, but it may also be created to achieve a goal to beat the competitors and outperform all the specific weaknesses available in the market niche.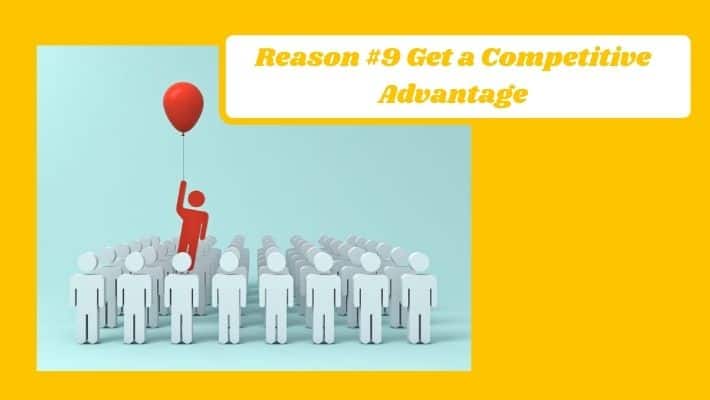 Besides, having an investment in a platform that is built to your specific necessities, you get an original chance to differ from others. You get a platform your competitors do not have access to.
Final Thoughts
Off-the-shelf solutions are created to meet specific business needs. They may not be a good fit for any kind of enterprise. So, if you want to have fully satisfied and happy users, you need to rely on custom software development. Accordingly, you will offer solutions that
✓ make everything achievable in one functional platform,
✓ help to present personalized digital look,
✓ offers familiar user experience,
✓ keep the data secure, and many more advantages you don't want to miss.
Do not hesitate any longer. It's time to make the right decision. No more potential customers to lose. If you want to start on your custom solution or you already have one and need to make some changes, then feel free to get in touch with our professional team of developers. They are always ready to offer productive solutions.
Article by: Vera Mirzoyan
Published on: December 24, 2020
Last updated on: January 11, 2022