What is Local SEO Ranking Factors a Local SEO Agency Should Consider
For businesses, SEO is a goal that requires a lot of effort in marketing, design, and development. These means and resources are meant to improve the quality of services and increase business growth. As you may know, SEO is an extensive field and it includes different aspects of website development, design, and marketing efforts. Local SEO services form one of the most essential directions of SEO. Throughout your experience, you may have met a local SEO agency that helps businesses achieve success in the wide scope of digital experience.
What does Local SEO Look Like?
Definition. Local SEO is an effort to rank in the local pack results. This is the local pack results that are a knowledge panel that shows local businesses based upon the query that has been put in. Let's highlight with an example of a photo below.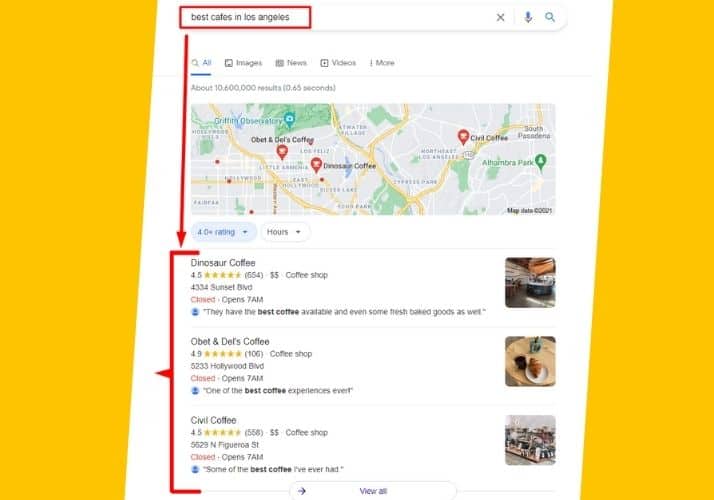 Here you may see the results provided by a search "coffee shops in Los Angeles". If you continue to view all you will get more local listing results including the location on the map. This also works for different applications that drow upon local listings to provide value to their users. So, we may say that the local SEO is not just about showing up in that one place on Google but also about making sure that you show up in any place where people might be able to provide value to the business.
One of the central places where this listing is generated is the Google My Business interface. Because Google represents the largest portion of the search worldwide and we can focus on things that are more beneficial for your placement and your ranks on Google.
A good internet marketing agency that offers local SEO packages or services of local SEO for small businesses follows all the requirements offered by such directories and listings to rank in the top results of local listings. Let's find out more.
What do you need to do to be eligible for a local listing?
To reach the best possible result, your business should follow some requirements:
There must be a real physical address for your business
Meet face-to-face with your customers
Once your business does not meet these most critical 2 points as a part of the business model, your success will be limited in regards to the local SEO.
Which is the Best Goal for Local SEO?
Different companies may offer affordable local SEO services, but not all of them are focused on achieving the right goals. Yet, it is highly recommended to really focus all our efforts on things that are very related to one another. Some people may say it is about the reviews. Others may consider local pack rankings. But still, there is one that stands out among the others. The best answer to say what we do with local SEO is TO PRODUCE MORE BRAND INTERACTION for the business.
So, if the question is "What is the goal of local SEO?", then the answer should be "Improving interactions from organic map results and local search intent queries wherever they exist. But, what counts as an "interaction"? What is this interaction and what does it mean? If we look at global pack results we may see that there are a lot of opportunities.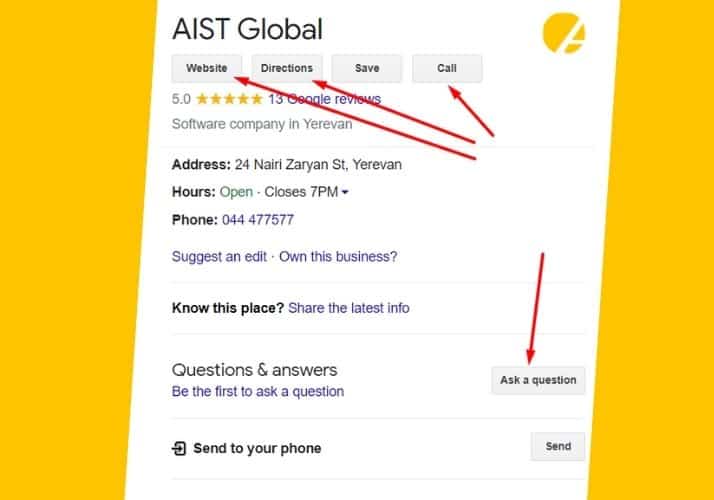 Here we see you can click on the website, call the phone number, or ask a question. Depending on the business type, these interactions may differ. There are a lot of different opportunities to increase the touchpoints with the customers using these local pack results.
What Should a Good Local SEO Agency Take into Consideration?
There are many factors related to local SEO and, of course, such signals are constantly changing. Below we will together identify all these important factors that come together to produce a local pack result. When making detailed research I came to the point that there are lots of signals that are specific to a local business. These may include things like:
Google My Business account information
The citations you may have
Reviews
User behavior
However, the traditional SEO signals are also taken into consideration. These are the sizable parts of the ranking factors that go into a local pack result. So, keep in your mind that the local SEO is not just its own thing but an augmentation in addition to the kinds of traditional SEO activities that are used. This is more than just listing management. We might think of the goal of local SEO has been one of these types of things. Now let's go on and identify the most important ranking factors or areas that influence the local Search.
#1 Google My Business
Arguably, this is the most influential point in local SEO rankings. This is a free tool, and as we have already discussed above, this is a listing that makes the business eligible for the search engines as well as related platforms, providing a lot of opportunities to increase customer interaction.
GMB is the first thing people come across when they search for a business or company on Google. So, it is good to have your business listed, verified, and managed on this platform. GMB provides a lot of useful details like:
proximity
contact information
categories
updated content, etc.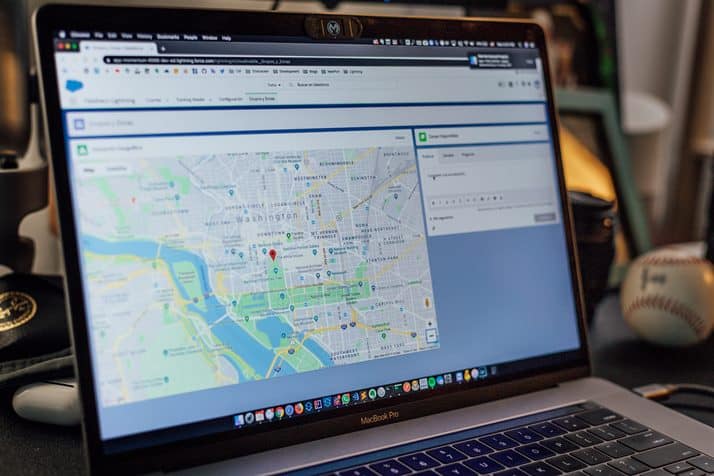 Search engine algorithms use these and similar signals to analyze and figure out the business location and it is shown to people in your area. It is incredibly important for businesses to set up, claim, and verify their GMB listings. Besides, a comprehensive local SEO campaign will also work to optimize the listing for enhanced eligibility. Even if you keep searching, for instance, dental clinic while changing your location, you will see that the results differ. Proximity has a lot to do in this regard.
#2 On-Page SEO
Different factors are considered by search engine systems when choosing whether or not your business will be listed in the local search results. On-page SEO has great significance in this regard. First of all, the page is analyzed to figure out if the used keywords are relevant. The right choice of keywords will greatly help you.
Another on-page SEO factor is the availability of name, industry, address, phone number, etc. And it is even more essential to follow the accuracy so that you make sure the details are the same in different sources. This helps the system consider the proximity of your business and show it in nearby requests. Otherwise, the system may consider that you confuse the audience and do not include our business in the results.
The mobile-friendly design of your website is also very important. A significant part of search engine queries is made from mobile devices. So, having your website available and easily accessible for mobile users is a great advantage to get ranked. A responsive and speed website is a guarantee of a good user experience regardless of the device used. The majority of business users have already taken this into consideration. You should also go for it.
#3 Online Reviews
What else may be better for potential customers rather than previous users' experience and feedback? Before making a purchase (no matter it is a big one or small) we tend to read all the opinions about it to make sure we are on the right path and the product or service is worthy enough to pay for.
Thanks to online reviews, the potential customers make at least a general opinion about how trustworthy the business is and what kind of experience it has previously offered. Reviews have a great impact on the process of making decisions.
Those businesses that frequently receive positive reviews and online ratings significantly benefit from increasing rankings. Local SEO ranking signals take into consideration the total number, frequency, diversity, as well as quality of reviews a company has previously generated. When it happens that a business very often receives genuine glowing reviews for their services, engines take it as a sign of customer satisfaction. It tells that the users are pleased with the provided services.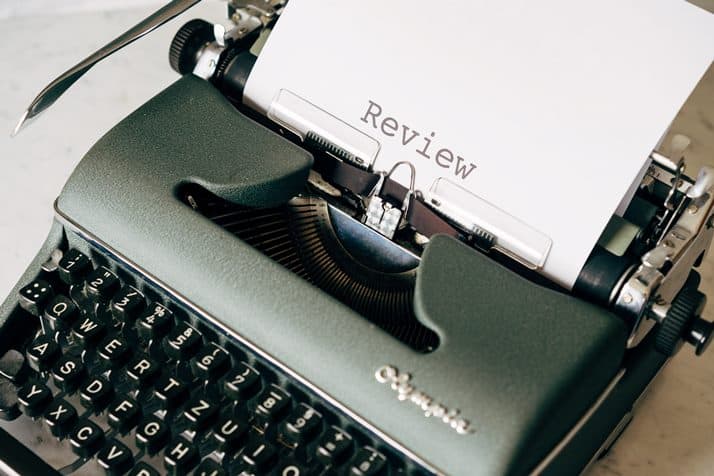 As search engines tend to put the users and their preferences first, businesses that generate good reviews are served to users higher in the list of local search rankings. A significant part of a strong local SEO campaign is based on satisfied customers sharing positive feedback, reviews, and ratings with platforms such as Google Maps, Yelp, Glassdoor, or Trip advisor.
#4 Backlink Profile
Backlinks help search engines understand how useful your page is for the users. These are links to your website inserted into other platforms. As a local business, you should tend to generate links from local, relevant, and authoritative websites for a positive impact on their site. These days it is very challenging to gain quality backlinks. Yet, it is important to remember that when the turn comes to other sites linking to yours, quality is more essential and worthy of consideration than quantity.
To get priority placement in the listings you will need to get backlinks from platforms that:
has a high DA (Domain Authority)
has a high DR (Domain Rating)
is relevant to your business niche
is an authoritative portal in the local market
Also, pay attention to the anchor the link is inserted into on the source page. It is also essential when understanding the relevance of the page content.
#5 Online Citations
Digital directories and citations are very essential when engines need to read and understand the page content. To speak more clearly, this is the same as the old-fashioned Yellow pages. Citations are huge sources of information data that cover details about business out into the web. This also helps to acquire local backlinks from legitimate and authoritative websites.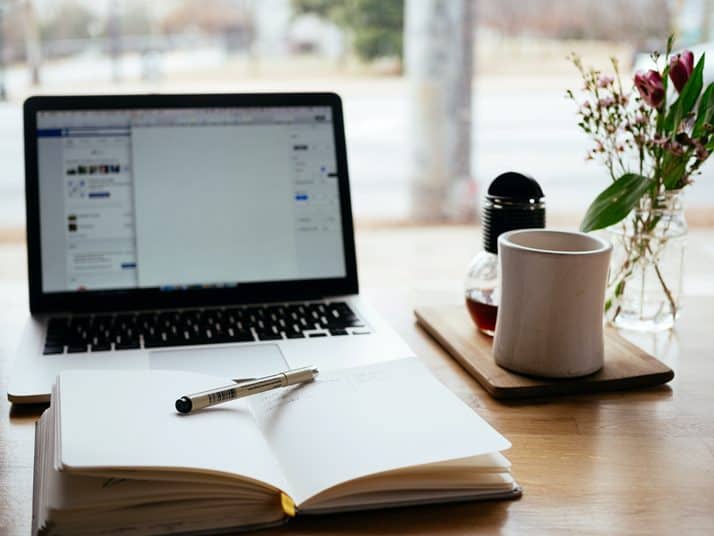 Online searchers use various directories in order to get products and services or find their contact details. Search engines consider citations to verify the necessary information about a business. Once again, make sure that your company information details are the same across all directories and citation listings. Making use of directories and citations, systems once again affirm the accuracy of your contact information to both search engines and individual users.
#6 Behavioral Signals
From the moment users land on your web page, search engines pay attention to their behavior in order to understand how your website satisfies people and meets their expectations. There are many metrics that are figured out such as:
CTR (Click through Rate)
Bounce Rate
Average Session Time
Mobile Clicks to Call
Social Media Check-ins
All these and similar activities with your website help search engines understand how useful your services or products are for people. And, it has a significant impact on your SEO rankings.
Having analyzed similar data of different businesses, search engines determine which is the best one that satisfies the users and meets their needs. And the lucky ones appear in the local listings. Tracking the behavioral signals, you may analyze the results, figure out the drawbacks and do your best to improve the quality. In this way, you may increase the chance to appear on the top results. In the end, marketing is all about research, statistics, and reports that help to create a strategy and work for a better and successful future.
#7 Personalization
Even when two people make the same search in any engine, they will get different results, depending on their previous experience, language, location, and some more factors. Offering content that is relevant to your local community increases the opportunity that your page will be ranked at the top. Local content may have a huge impact on the local listing as search engines tend to offer exceptional content to the users.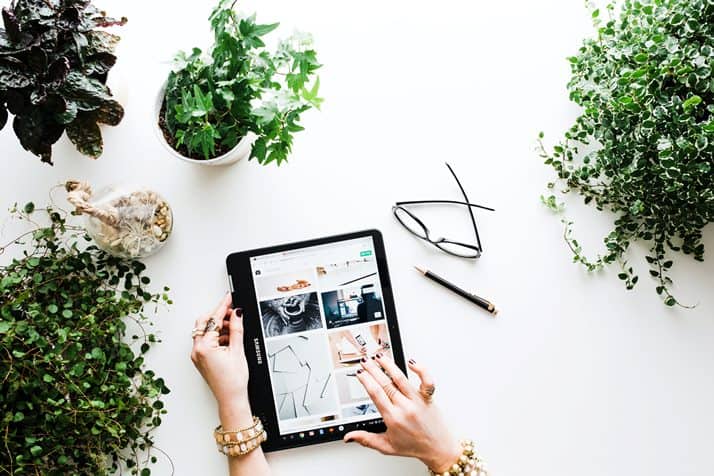 The local content may be expressed in different formats such as blog articles, different forms of visuals (image, video, infographics, etc.), and even event announcements in the chosen nearby area. Making use of location-specific terms and expressions you may attract search engines as well as users, putting their attention on your business and improve its ranking score and visibility.
This time as much about the local SEO and all the related factors one should take into consideration when working on website optimization and SEO complete checklist. Hopefully, you find this piece of content useful. Thank you for following our blog!
Article by: Vera Mirzoyan
Published on: August 05, 2021
Last updated on: January 06, 2022