8 Website Optimization Tools You Should Use
Will you imagine what happens to a website that never gets optimized for search and conversions?
Guess? It dies. (Click to Tweet!)
You don't want this to happen to your website. On the contrary, you want it to flourish and bring in paying customers. To achieve the goal, you need the right website optimization tools.
Website optimization is the process of systematically improving the performance of your website to meet your business objectives. Website escalation tools help you figure out what you're doing right and what you're doing wrong, at the same time making your website more effective at meeting your goals.
In a fast-growing field like website optimization, there's a large number of tools available. Both free and paid website development tools exist to help you draw more people to your site and convert them into happy customers.
Using the right tools for your service can save you countless hours of frustration and anxiety. If you are confused about choosing the right tools to optimize your website, then you are in the right place.
Here are 8 best site optimization tools to get you started on doing some fantastic testing for your website
#1 Website Optimization Tool: Moz
Over the years Moz has earned a reputation for being an authority in small business SEO services. And today the software is one of the most important website development tools to include in your arsenal. Using Moz, you get alerts about pressing site issues that could harm your traffic or ranking.

It helps grade your website quality according to the required on-page SEO items by the level of importance and correlation with the keywords you want to rank for. What's more, it also offers suggestions on how to fix the errors.
Moz includes the essential features you expect from an online SEO tool: backlink analysis, keyword tracker, domain analysis, onsite and offsite SEO, organic traffic analysis, and competitor analysis (just SEO). That's why we call it a must-have app. Moz suggests a 30-day free trial, that seems to be very useful.
#2 A/B Testing Tool: Optimizely
Optimizely makes it easy to test different attributes of your website against one another quickly. Once Optimizely is installed on your site, you can set up as many optimization experiments as you like without needing to know how to code or asking your engineering team to make changes.

Optimizely wins the A/B tasting category with features including an intuitive interface, full code control, powerful debugging and click-to-change test setup.
Companies like IBM and Salesforce benefited from using Optimizely. It is the key component in increasing your revenue as well.
#3 Website Optimization Tool: Crazy Egg
Crazy Egg allows you to collect information about your visitors' behavior. The software is a simple but effective website optimization tool that shows where your visitors spend their time and where they click more frequently.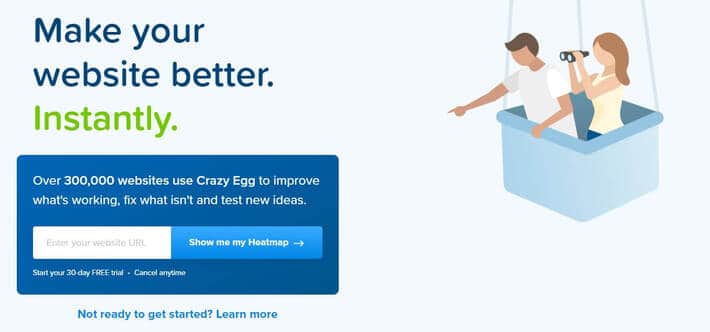 With the help of this tool, you find out how the visitors use your website. It helps to point out the hotspots on your website and see where your visitors are getting lost. Depending on the results you improve your website design.
Crazy Egg is one of the best website optimization means, which includes a free trial period.
#4 Website/SEO Optimization Tool: Ahrefs
Ahrefs is an advanced SEO resource that examines your website property and produces keyword, link, and ranking profiles to help you make better decisions on your content.

Ahrefs helps you analyze your backlinks, and shows your competitors' backlinks too. You can search for broken or irrelevant links and ask those publications to link to your site instead.
#5 Website Optimization Tool: Screaming Frog
Once you've done everything possible for your website optimization, you need to make sure that you've not missed anything. Screaming Frog is the best tool for getting a crawl report with specific identification of issues, if any, related to SEO.

It allows you to find broken links so you can fix them with a redirect or some other solution. Screaming Frog features a redirect audit tool, too, and a tool that lets you automatically find duplicate content.
Screaming Frog gives you the opportunity to choose whether to download it for free or purchase a license for additional advanced features.
#6 Speed Optimization Tool: GTMetrix
GTMetrix offers an excellent website optimization tool that can help you determine how fast your page loads and what you need to do to fix it. Using this tool more and more, you get detailed reports about your site's performance.

GTMetrix gives you the most data of any of the popular page speed tools, allowing you to optimize more efficiently for faster loading speeds. It not only finds out the issues related to your website but also offers the best solutions.
The basic version of GTMetrix is completely free and simply requires a sign in.
#7 Keyword Optimization Tool: KWFinder
Targeting the right keywords is a crucial point in your website's keyword optimization. In case you are confused about your keyword research, here is KWFinder to help you. This keyword optimization tool finds hidden long-tail keywords, organizes keywords with a list and filter the unprofitable ones, etc.

KWFinder is a free to use tool with limited features (50 keyword results and 3 searches per day). You need to pay for more.
#8 Keyword Optimization Tool: Siteimprove
In a world where the only constant thing is change, all you need to do is monitor keyword performance, optimize content, analyze the competition, and report ROI, and all in good time.

Siteimprove is one of the best keyword optimization tools for you. This strong SEO tool drives website traffic, brand awareness, and conversion rates. It helps you to find out issues related to speed, technical setup, broken links, etc. You even can create your own policies for what to look.
Conclusion
Definitely, using these best website optimization tools makes your website more attractive and functional. Your competitors are likely to use them, and you don't want to miss out either.
Check in with these tools running reports, and actively making adjustments, so that you will never lose out on potential sales.
As web professionals, we need to ensure that our customers have the best website they can possibly have.
Also check out our guide on image optimization.
Автор։ Vera Mirzoyan
Опубликована։ Январь 31, 2019
Последное обновление։ Сентябрь 02, 2021